Have you ever searched high and low for inspiration, wondering if you'll ever find it? This is true for me, especially during the past year. I told my mother-in-law that in 2021 I hoped to write at least one blog per month as long as I could find something interesting to write about. This is easier said than done, I'm finding. She has been incredibly supportive of my efforts here, and she suggested I write about lighthouses. My first thought was that would be interesting, but I don't know what I would say about them. Then, out of the blue, the light bulb went on (appropriate for a blog about lighthouses!). There were many lighthouses in the area surrounding the island where I grew up. Except for the last 10 years of my life, I have lived within 10 miles of the Atlantic Ocean and have marveled at many lighthouses up and down the East Coast. If you look on the shelves in my living room, you will see a lighthouse figurine, given to me by mother-in-law many years ago; and a lighthouse painted on a sea shell by one of my aunts (see picture in title box). So I decided, Yes! I can write this!
I checked out from my library American Lighthouses: A Comprehensive Guide by Bruce Roberts and Ray Jones (Old Saybrook, CT: The Globe Pequot Press, 1998, ISBN 0-7627-0324-5) and enjoyed thumbing through its pages, reading about lighthouses I have been to and those I would like to visit. One-quarter of the way through I ran across a section on the Statue of Liberty and was surprised. Ok, why have I never thought of this as a lighthouse? Have you? I guess I have always just thought of it as a monument. "Dedicated in 1886 and commissioned as a harbor light that same year, the Statue of Liberty is probably the world's most famous lighthouse. The light in the bronze lady's torch guided ships in and out of the harbor for many years and is still hailed as a guiding light by many landlubbers." (p. 84) This, folks, is why I continue to read and learn!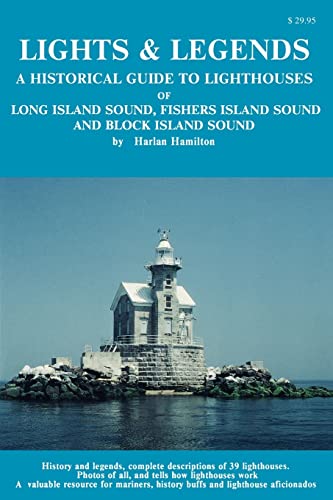 There's a connection between the Statue of Liberty and Race Rock Light (1878), near where I grew up. I recently added to my collection Lights & Legends: A Historical Guide to Lighthouses of Long Island Sound, Fishers Island Sound and Block Island Sound by Harlan Hamilton (Stamford, CT: Wescott Cove Publishing Company, 1987. ISBN: 0-918752-08-6). One of the engineers of the base created for Lady Liberty was Francis Hopkinson Smith, who was also the engineer behind the construction of the Race Rock lighthouse. The Race, a particularly dangerous area located off the western tip of Fishers Island, NY, was the site of a dozen or so shipwrecks in the early part of the 1800s. In 1846, the wreckage of the steamship, Atlantic, claimed 45 lives. It was due to this catastrophe that the U.S. Congress funded a project to build a lighthouse at the Race Rock location. Smith later went on to pen the novel, Caleb West, Master Diver (Boston: Houghton Mifflin Company, 1898) based on his experiences during the building of Race Point Light. According to an article in The Daily Star newspaper, this novel was adapted into a silent film in 1920, under the title Deep Waters. (Fredricksburg, VA: Friday, October 7, 1921, Vol. XXVII, No. 83, p. 1).
Another cause for the lightbulb to go off in my head – I just happened to be reading a cozy mystery at the time of my conversation with my mother-in-law. A Death Overdue by Eva Gates (New York: Crooked Lane Books, 2020, ISBN: 978-1643854588), is the 7th book in the Lighthouse Library Mystery series. The heroine and amateur sleuth, Lucy Richardson, is the assistant manager of the Bodie Island Lighthouse Library in Nags Head, NC. (Real lighthouse, fictional library.) I love this series and never tire of reading about the characters' interactions, the book club meetings, and Lucy's investigating adventures. The eighth installment of the series, Deadly Ever After, is due to be released May 11, 2021 (ISBN: 978-1643855882). If you'd like to know more about this series, click here: The Lighthouse Library Mysteies – Home (lighthouselibrarymysteries.com).
Juliet Blackwell, another one of my favorite authors, writes the Haunted Home Renovation Mystery series. Book 7 in this series is A Ghostly Light (New York: Berkley, 2017, ISBN: 978-1101989357). Mel Turner is hired to renovate a historic lighthouse in San Francisco Bay. When a dead man is found at the bottom of the lighthouse stairs, Mel sets out to find the killer. To learn more about Juliet Blackwell and her books, please click here: Author Juliet Blackwell.
If you're a paranormal fan and a non-fiction lover, I recommend reading Lighthouse Ghosts: 13 Bona Fide Apparitions Standing Watch over America's Shores by Norma Elizabeth and Bruce Roberts (Unknown: Crane Hill Publishers, 1999, ISBN: 978-1575870922.
Also, if you would like to read more about the shipwreck of the Atlantic, Eric Larsson wrote a book called The Captain, the Missionary, and the Bell: The Wreck of the Steamship Atlantic, (Murrells Inlet, SC: Covent Books, 2020, ISBN: 978-1646703777).
I hope you will enjoy these books and maybe get to visit your favorite lighthouse. And I'll leave you with this quote – "A good book is a lighthouse; a wise man is a lighthouse; conscience is a lighthouse; compassion is a lighthouse; science is a lighthouse! They all show us the true path! Keep them in your life and remain safe in the rocky and dark waters of life!" – Mehmet Murat Ildan