Bucks County, Pennsylvania is a wonderful place to visit. It has picturesque landscape and is steeped in history. Bucks County is also a fantastic destination for literary lovers. Here are some of the many places to include in your visit to Bucks County:
Michener Art Museum – Doylestown, PA
James A. Michener (1907-1997) was a native of Doylestown. He authored dozens of books, including the 1948 Pulitzer Prize for Fiction winner, Tales of the South Pacific. Rodgers and Hammerstein adapted this book into the 1949 Broadway musical South Pacific, which was then adapted into film in 1958 and again in 2001. Michener was an art lover and a philanthropist, and donated money to the project that established this museum. And here's an interesting bit of trivia – the building that houses the museum was once the County Jail! The museum opened it's doors in September 1988.
When you enter the museum and turn left, there is a permanent exhibit – "James A. Michener: A Living Legacy". This is one of my favorite parts of the museum. You'll see Michener's desk, typewriter, and other items from his office, in addition to books, photos, and awards. The Michener Art Museum also has fantastic art displays, and variety of art classes for all ages. If you are a researcher, the museum has an art library and archive, for which you will need to make an appointment to access. For more information about the Michener Art Museum, please click here: James A. Michener Art Museum – Art and Education in Doylestown, PA.
If you would like to know more about James Michener, I recommend Michener and Me by Herman Silverman (USA: Running Press, 1999. ISBN: 978-0762406203). Silverman was a long-time friend of Michener and a founder of the Michener Art Museum.
Mercer Museum and Fonthill Castle– Doylestown, PA
Another prominent citizen of Doylestown was Henry Chapman Mercer (1856-1930).  Mercer was a scholar with interests in archeology, anthropology, and art, and authored several books on these topics.  Fonthill Castle was his home, which you can still visit today.  Completed in 1912, Fonthill contains an amazing display of tile work from Mercer's company, Moravian Pottery & Tile Works (located next to Fonthill).  I mention this location because Mercer's substantial personal library is one of the rooms you can visit in Fonthill. 
About a mile or so away and located directly across the street from the Michener Art Museum is the Mercer Museum.  Mercer built this to house his collection of pre-industrial tools and was completed in 1916.  The museum also has the research library of the Bucks County Historical Society.  What do Mercer's home and museum have in common?  They were both built almost entirely of reinforced concrete (including interior walls). To find out more about Mercer, Fonthill Castle, and the Mercer Museum, please click here: https://www.mercermuseum.org .
Green Hills Farm – Perkasie, PA
Another famous author, philanthropist, and activist who resided in Bucks County was Pearl S. Buck (1892-1973).  Born in Hillsboro, West Virginia, Buck moved shortly after her birth with her missionary parents to China.  She lived in China for a good portion of her early adult life, which greatly influenced her expansive literary works.  She received many awards and accolades, including the Pulitzer Prize in 1932 for The Good Earth (film adaptation in 1937).  Buck returned to the United States in 1934, and purchased Green Hills Farm around 1935.  In 1964, she established the Pearl S. Buck Foundation (now known as Pearl S. Buck International).  This organization provides aid for children, hosts a Global Leadership Program for high school students, offers writing classes and book groups for adults, and much more.  Tours are available of the house, and there is also a gift shop and exhibit gallery.  While visiting, you'll get to see Buck's office and personal library.  If you'd like to know more about Buck and this organization, please click here: Home – Pearl S Buck .
Do you want to know more about the famous and talented people, such as Oscar Hammerstein, II, Dorothy Parker, and Moss Hart, who lived in Bucks County? I recommend The Genius Belt: The Story of the Arts in Bucks County by George S. Bush (editor) (Penn State University Press, 1996. ISBN: 978-0271016733).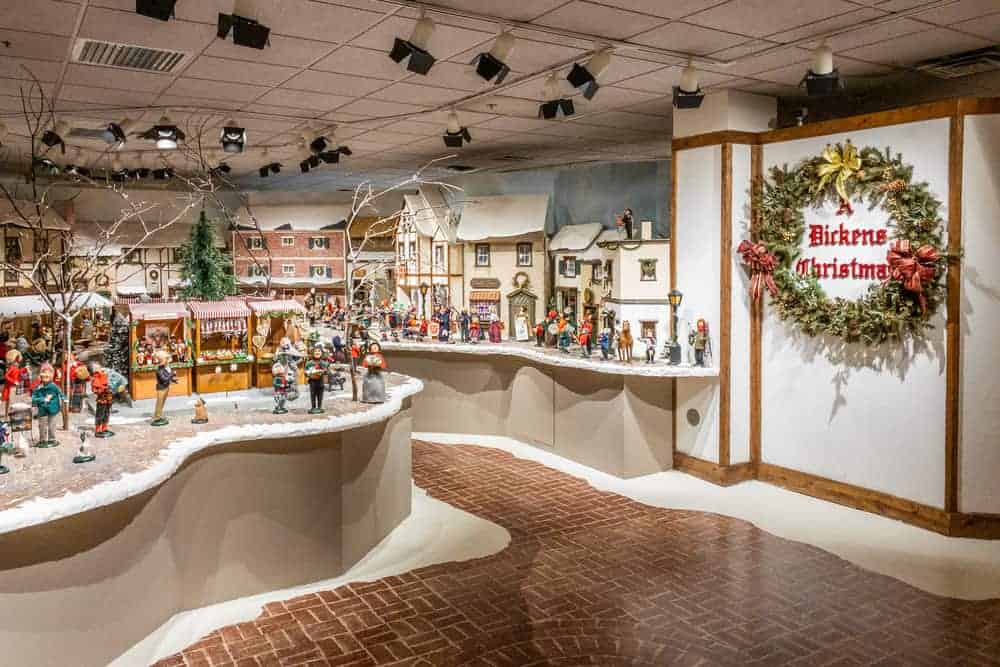 Byers' Choice – Chalfont, PA
Byers' Choice got it's start as a business in the 1960s when Joyce Byers began creating Christmas decorations (specifically Carolers) in her home.  This at-home start up grew into an international business.  Why is this being included with other entities that are book related? Well, if you check out the Carolers, or visit the Christmas Museum at their Welcome Center, you will notice the heavy influence of Charles Dickens.  As you're entering the museum, and on your way to the Observation Deck (where you can watch artists creating the Carolers), you'll pass through a walkway that makes you feel like you're walking through the Victorian streets of London.  The connection with Dickens does not stop there.  For many years Gerald Dickens, the great-great grandson of Charles, has been coming to Byers Choice to perform his one-may adaptations of several of Dickens' stories.  Unfortunately, due to Covid, Gerald Dickens was unable to hold his live performance of A Christmas Carol.  I have seen his live performance and it really is exceptional.  He plays the roles of each character without major costume or scene changes so seamlessly.  If you get a chance to see him live, go and see him.  If not, I believe you are still able to stream his recorded version.  If you'd like more information about the show and Byers' Choice, please click here:  https://www.byerschoice.com . (For information on streaming Dickens' performance, click on EVENTS, and scroll down.)
Okay, now you've traveled to Bucks County and are seeing the sites, and you feel the need to pick up a great book….where do you go? If you just want to browse in a public library, the Bucks County Free Library has its center in Doylestown, and is located right next to the Michener Art Museum, and directly across the street from the Mercer Museum. There are 17 other locations throughout the county. For more information about Bucks County Free Library, please click here: Home – Bucks County Free Library (buckslib.org) .
Feeling like you might want to purchase some books – something that you can take home with you? You might be interested in the Bucks County Book Fest. The Book Fest began in 2018 and has been held annually since then (2020's was held virtually). Past authors have included Anna Quindlen, Ibram X. Kendi, and Kate Moore. The 2021 Book Fest will be held September 24 -26 and includes keynote speakers Christina Baker Kline and Jason Reynolds, and at least 18 other authors. For more information about this event, please click here: https://www.bucksbookfest.org .
You might also want to visit some of the wonderful independent book stores located throughout the region. Here is a listing along with their websites for more information:
The Doylestown Bookshop (Doylestown, PA) and The Lahaska Bookshop (Lahaska, PA): The Doylestown Bookshop .
Farley's Bookshop (New Hope, PA): https://www.farleysbookshop.com .
Newtown Bookshop (Newtown, PA): Newtown Bookshop | Your Neighborhood Independent Bookshop .
Commonplace Reader (Yardley, PA):  Commonplace Reader (commonplace-reader.com) .
(NOTE: Map of Bucks County in the above title box is from Visit Bucks County. Click here for more information if you'd like to plan your trip to Bucks : Visit Bucks County, Pennsylvania )